New Delhi: Prime Minister was paid a State Visit to the Kingdom of Bahrain from 24-25 August 2019. This was the first ever Prime Ministerial visit from India to Bahrain.
During the visit, Prime Minister was met and holds talks with His Royal Highness Prince Shaikh Khalifa bin Salman Al Khalifa, Prime Minister of Bahrain to discussed the entire spectrum of bilateral relations and also regional and international issues of mutual interest. His Majesty the King of Bahrain Shaikh Hamad bin Isa Al Khalifa was hosted a banquet dinner in honour of Prime Minister. PM Modi was also launched the renovation of Shreenathji (Shree Krishna) temple in Manama.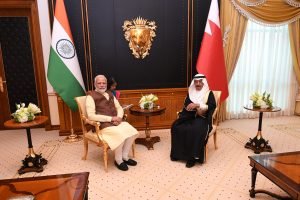 India enjoys close and friendly relations with Bahrain rooted in ancient trade and cultural links and people to people contacts and underpinned by regular exchange of high level visits. India-Bahrain bilateral trade has been on the rise for the last few years, reaching about US$ 1.3 billion in 2018-19. Further about 3,50,000 Indian nationals, the largest expatriate community in Bahrain has been contributing to the development of Bahrain. The presence of over 3000 Indian-owned/Joint Ventures in Bahrain indicates the intense economic engagement between the two countries. The visit will provide an opportunity to further cement our mutually beneficial bilateral ties with Bahrain.