New Delhi: In his first official overseas visit, Hon'ble Vice President of India H.E. Mr. M. Venkaiah Naidu visited Panama from 8-10 May 2018, in the second leg of his tour of Latin America. He was accompanied by a high-level delegation including Minister of State for Tribal Affairs and an all-party delegation represented by the Members of Parliament from different political parties in India, and senior officers of the Government of India.
In an unprecedented gesture, the visit was upgraded and the President of the Republic of Panama H.E. Mr. Mr. Juan Carlos Varela Rodrigues led the talks, beginning with Tete-e-tete and continuing with delegation level talks which were held for more than two hours. This was followed by banquet hosted by President Varela, who later chaperoned him around the Panama Canal. The Panamanian delegation included the Vice President and Foreign Minister of Panama and other senior Cabinet Ministers and senior officials from Commerce & Industry, Science and Technology, Agriculture, Security, Energy and two Members of Parliament.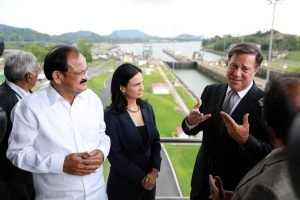 Vice President Venkaiah Naidu thanked the Government of Panama for the recent measures taken towards facilitating issue of visas to Indian businessmen and other visitors wishing to visit Panama. Indian e-visa facilitation was highlighted. Both sides agreed this would boost tourism and people-to-people contact.
As the largest democracy in the world, the Indian side expressed keenness in deepening bilateral engagement at the Parliamentary level between both countries. Exchanges and interaction in this regard would be facilitated under the umbrella of the India-Latin American Parliamentary Friendship Group.
Vice President invited Panama to become part of the International solar Alliance Arrangement.