New Delhi: Hon'ble External Affairs Minister of India; Smt. SushmaSwaraj visited Luxembourg on 19-20 June 2018. EAM's visit, which is taking place when the two countries are celebrating 70 years of diplomatic relations, is also the first ever visit to Luxembourg by an External Affairs Minister from India.
Trade and investment are the bedrocks of India-Luxembourg ties. The Luxembourg headquartered European Investment Bank recently opened its South Asia Regional Office in New Delhi. A number of Indian companies are also listed on the Luxembourg Stock Exchange.
During her visit, the External Affairs Minister of India Smt. SushmaSwarajcalled on the Hon'ble Grand Duke of Luxembourg His Royal Highness Henri Albert Gabriel Félix Marie Guillaume.
Hon'ble External Affairs Minister of India Smt. Sushma Swaraj called on H.E. Mr. Xavier Bettel, the Prime Minister of Luxembourg. During the call on, the leaders discussed a wide range of issues including enhancing bilateral and India-EU trade and investment ties, digital and space cooperation, fintech and diaspora contribution.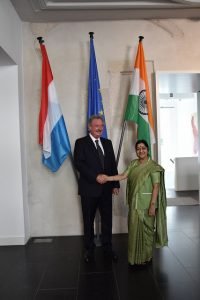 EAM also had a meeting with her counterpart, Mr Jean Asselborn, Minister of Foreign and European Affairs. During the meeting, both sides undertook a complete review of India-Luxembourg political bilateral relations. They also had extensive discussions on regional and multilateral issues.