New Delhi: His Excellency Shri Ram Nath Kovind is on a State Visit to the Hellenic Republic from 16-19 June, 2018. President Kovind is accompanied by Shri Vishnu Deo Sai, Minister of State for Steel, Members of Parliament and senior officials of Government of India.
During the visit, President Kovind was accorded a ceremonial welcome at the Presidential Mansion. President Kovind laid wreaths at the monument of 'Unknown Soldier' at Syntagma Square. President Pavlopoulos held a meeting with President Kovind and also hosted a banquet in the honor of President Kovind. The Prime Minister of the Hellenic Republic, His Excellency Mr. Alexis Tsipras paid a courtesy call on President Kovind.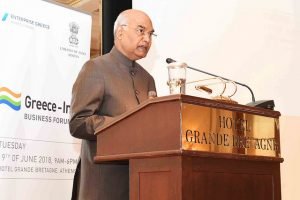 The business meeting is being attended by an Indian business delegation comprising 31business representatives and a large number of Greek businesspersons representing the sectors of information technology, electronics, real estate, agriculture, tourism, food processing etc. President Kovind will address the business leaders at a Breakfast Meeting.
During his discussion with Greek Leaders, President Kovind highlighted the constructive cooperation between the two nations on international and bilateral issues. He expressed India's resolve to strengthen the close ties and longstanding friendship between the two countries, especially in view of the upcoming 70th Anniversary of the establishment of bilateral diplomatic relations in 2020.
The Leaders appreciated the bilateral economic cooperation between the two countries and expressed satisfaction that bilateral trade stood at over half a billion US Dollars. Leaders committed to work together to achieve the vast untapped potential. They noted the presence of Indian companies in infrastructure, pharmaceuticals and steel sectors in Greece and of Greek companies in the fields of IT and construction in India. They were of the view that sectors such as agriculture, shipping and tourism also offer scope for cooperation.
Both sides expressed satisfaction with regular high-level contacts between the two countries that further deepen bilateral ties between the two nations.
President Kovind thanked President Pavlopoulos for the warm welcome and hospitality extended to him and his delegation.