New Delhi: Foreign Minister of the United Arab Emirates Mr. Sheikh Abdullah bin Zayed Al Nahyan is paying a visit to India from 24-30 June, 2018. He will be accompanied by a senior-level delegation. Apart from the official programme in New Delhi, the visit also includes engagements in other States of India.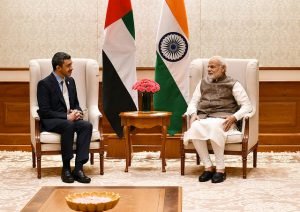 During the visit, Foreign Minister of U.A.E Mr. Sheikh Abdullah will call on Prime Minister of India Mr. Narendra Modi and hold official talks with External Affairs Minister. He would also be meeting other Union Ministers and Governors/Chief Ministers of the States being visited by him.
India and the UAE enjoy warm, close and multi-faceted relations underpinned by historic, cultural, religious and economic linkages which stand elevated to a Comprehensive Strategic Partnership. The UAE is India's third-largest trade partner and sixth-largest supplier of our energy needs. Several significant developments have taken place in the recent past including awarding of a 10% stake to Indian consortium in Lower Zakum offshore field, participation of UAE in India's strategic petroleum reserves, investments by the Abu Dhabi Investment Authority in infrastructure and increasing engagements in energy, food security, logistics, space etc. A 3.3 million-strong Indian community, largest in the Gulf region, has made the UAE its second home and is contributing to its development.