What are the changes that you have seen in India-Ecuador relations in the past few decades?
Decades is a long time. We established our relationship in 1969, so we are celebrating 50 years of this relationship between India and Ecuador. And what has changed in the last few decades is not the question, we should rather think about what are the changes that are currently happening. If you see India has changed a lot during this time. I had friends over from Mumbai a few days back and we were in fact, having this discussion about the changes that India has seen in the past 5-6 years and they told me that India has the change during this time is more than what India has seen in past 100 years. The services today are way better from if you compare them with what they were when I first got here. Normally in 2013, you didn't have cab services like Ola or Uber. It was living in Mumbai and there were only Blue cabs, Meru Cabs and Black Cabs and they had to be booked at least 4-5 hours in advance. There were times they wouldn't reach, I had to face a situation like this wherein I booked a Meru Cab and kept waiting at the supermarket for a couple of hours, but the cab never reached. But all the problems like these have been solved in the cities.
Just like how India has changed, the relationship between India and Ecuador has also changed. India currently is considered a technological superpower; therefore the visions 50 years ago have changed completely. Normally in Latin American Countries, the transfer of technology needs to come from Europe, USA, Canada, Japan and Korea, but until now we donot see India as a technology provider because we do not know India.  That's why I am the bridge between Ecuador to India and I see all the technology you have here. Normally I mention PadMan movie starring Akshay Kumar, he was in the United States assembly and he said that India has many problems and challenges, but at the same time India has many solutions and many opportunities. We see India as a country that is going to become the 3rd biggest economy of the world in next 5 years.
What are the major trade opportunities Ecuador is offering to India?
We are number one TIC provider, Mineral provider and cocoa beans provider. In 2015, we did provide even a single coco bean to India, but it is a job, you know, to come here to compare and promote the services. But you need to be here to understand the culture and understand the need of the people of India. We are working in that direction, doing our homework and introducing new products like coco sub products including coco water, coco liqueur and so on. We understand that there are plenty of opportunities; middle class in growing, the country is growing, so we would like you to know that Ecuador is here to understand and cater to the needs of the Indian middle class.
What are major investment sectors in Ecuador? How is the country developing an investment-friendly environment?
In Ecuador, we need to change a few things in the trade and investment sectors. Currently, businesses are the one to send products and they want to invest in products and services. We have to change that because now we need solutions for many sectors. One such sector is Agriculture. Ecuador is a very rich country for agriculture, we have good soil, we have water and also have many resources, but India has a lots of knowledge in this sector. So, we have the resources and India has the knowledge. The agriculture technology available for small farmers in Ecuador is very expensive, while India has developed affordable technology for the farmers.
Second, such a sector is healthcare. To set up pharmaceutical plants in Ecuador as it is a huge opportunity for Indian companies. The country has 17 million population and is a small country, but we have al other Latin American countries around. According to specialists in health care, Obama care is going to disappear in the next three or four years. So what is going to happen to 40-50 million people, they are not going to receive any health service, so we need to check something, somewhere, and this country can be Ecuador because needs to be pharmacy, laboratory and hospital for America. So all the Americas, Latin Americans with Indian investment in Ecuador, we can covert this country to next Dubai.
Similarly, we have the IT sector. One of the biggest customer of TCS is in Ecuador. Mahindra tech is there, we need clever and educated people in the technology sector, and we have these educated people. That is why TCS and Tech Mahindra is in Ecuador. As per TCS one of the biggest customers in Latin America is BNamericas
One of the biggest challenge we are facing in Latin America is the lack of English, the people there do not speak fluent English. Not more than 5 per cent of the total population in Latin America speak English. So it is a huge problem for all young people. So the Indian universities, to go there and set us their base is a huge opportunity because normally the mode of teaching in universities there is Spanish. I would want to send my kids to Harward, MIT, and other European universities, but they are very expensive. But if there is some Indian University in Ecuador that offers English, things are going to change.
India also has Yoga and Ayurveda to offer and Yoga just not exercises, one needs to also understand the philosophy, anatomy behind it. So, India can come up with Yoga Institutes and universities in Latin America.
We need to create bridges and the best way is that Indian companies, professionals, Indian students should come to Ecuador.
What are the tourism opportunities available in Ecuador?
Nature is very important to our culture. Nature itself has rights in the constitution, making us the first country to provide nature rights within our constitution. Both India and Ecuador have similar climatic conditions. Like India has Goa, Kerala. Odhisa, likewise Ecuador has Montanita andOlon beautiful beaches. We have beautiful hills, jungles and islands.
Ecuador geographically is a small country, you can take breakfast in front of the beach and have lunch in the hills and dinners in jungles. The cultural history of Ecuador is very rich and some of the most beautiful churches in America. Quito, the capital city of Ecuador is declared as the heritage site by UNESCO. The food offers variety and is widely popular. Equador also has active volcanic sites. We are one of the biggest biodiverse nation in the world, that makes for good tourism.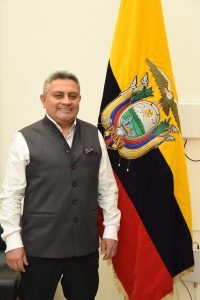 What are the major export opportunities between India and Ecuador?
We have spotted a few areas where the trade can be fascinated. Lots of projects are underway. But mostly we want India to invest in various sectors such as technology, IT, education in India.
We want to see Ecuador as a gateway for India to Latin Ameria and America. We need to research and make identify opportunities.
What are the recent economic developments between the two countries?
We are now going to sign a trade agreement between India and Ecuador that should be able to boost, transfer of technology, development and trade between the two countries. In the coming 3-4 months, we will have trade partial agreement between Ecuador and India.
As we know that Ecuador is famous for roses and India is one of the major importers of the same, tell us something about the quality roses that are exported to India?
There are different kind of roses that are exported to India. But right now we have started exporting a new produce that is collapsing the world but in a good way. Immortalise rose is kind of revolutionary I must say and is great for gifting purpose, especially here in India as there is a gifting culture. Whenyou go to somebody's house, you bring presents and there are very limited options like – wine, chocolates or fresh flowers, but not everyone drink alcohol in India, the chocolates can melt in so much and the fresh flower stay fresh on the table only for a few days. So immortalize rose can be great gift idea for your family and friends as it will stay the same for at least 3-4 years. This is also very special as the process takes a very long time because it is done petal by petal and the rose is then assembled again. So this is not a natural rose, but a nuetralized rose. Many companies are willing to invest in this product and India is considered a great market for the same. We are also looking for investments from both sides in this new venture.
India and Ecuador have been holding diplomatic relations from 1969. What are the changes that you have noticed?
It has been 50 years! Both, India and Ecuador have changed. The population of both the countries has also changed significantly. India's economy and the politics were much different in 1696. When I read the book 2020 written by Dr. Abdul Kalam in 2013, I didn't believe it. It was the time when India was developing, but Abdul Kalam in his book said that India is going to be a superpower and the country is actually going in that direction.
You know, 50 years ago we did have a relationship, but now everything is changing. There are only 3 consulates of Latin America in Mumbai – Argentina, Brazil and Ecuador. We are putting a lot of energy and believe that India is that superpower thatcan help bring change in developing countries because Indian has solutions for problems in education and agriculture sectors. A country's growth is reflected in the way its people are educated and fed, so if you feed and educate your people well, you are doing good.
Though we have 50 years of diplomatic relations, but I think it is now becoming even stronger. Both the countries are supporting each other in many ways .So you can imagine what's going to happen if India opens an embassy in Ecuador. The outcomes will be unbelievable because you will have your people in our country.
Would you like to give a message to our readers?
I would like to say that please come to Ecuador to visit, to invest, to eat and to enjoy. Latin America, Ecuador and India, according to me is going to be the best partnership in the world. Let me tell you why, First, we have the resources while you have the technology. Ecuador is very well connected and has trade agreements with Europe, India and many other countries. The best thing about our two countries is that we are very similar because we share the same values. People in both our countries are very welcoming and are wonderful hosts. We need to bridge the gap between India and Ecuador and let me tell you that distance is not the issue because it takes approximately 24 hours by flight, which is less than the travel time from Delhi to Tamil Nadu that takes about 35 hours by train.