New Delhi: Hon'ble Vice President of India, Mr. M. Venkaiah Naidu will visit Guatemala, Panama and Peru in Latin America from 6-11 May 2018. This will be of Hon'ble Vice President's first official overseas visit. He will be accompanied by a high-level delegation to include Minister of State for Tribal Affairs Shri Jasvantsinh Sumanbahi Bhabhor, four Members of Parliament and senior officers of the Government of India.
India attaches importance to its relations with the Latin American countries.
The visit started with courtesy call on President of Guatemala, Mr. Jimmy Morales Cabrera, who was accompanied by the Vice President of Guatemala, Mr. Jafeth Cabrera and Foreign Minister, Ms. Sandra Jovel Polanco, in which they discussed issues of common interest between the two countries.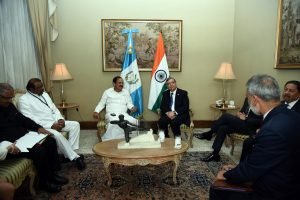 President Jimmy Morales conveyed that it was a high honour for Guatemala to receive the visit of an Indian Vice President. The Diplomatic Relations between Guatemala and India were established on 16th May 1972.
During the meeting, the two sides agreed to promote trade and economic relations and called upon the private sectors to explore and take advantage of the pro-business climate existing in both countries.
The Vice President of India, Hon'ble Mr. M. Venkaiah Naidu thanked the people and Government of Guatemala, on behalf of his delegation, for the warm hospitality received during his visit.
Guatemala City