"India and Guatemala both hold a rich and diverse legacy of cultural traditions. We have co-operated to showcase and promote the culture in both the nations."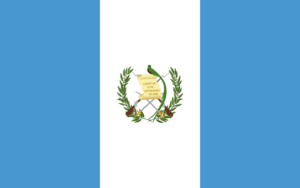 September 15th is an important day in Guatemala as it commemorates its independence from the Spanish rule on this day in 1821. How does the Guatemalan Embassy in India look forward to mark this day in 2023?
September 15th is definitely an important milestone in our history marking our independence from Spain in 1821. This day is celebrated across Guatemala by my compatriots in different ways, sharing our traditions, cultural events and also running and walking joyfully with torches bringing the patriotic fire to the different cities and communities in Guatemala. Our diplomatic mission looks forward to commemorate the 202ndanniversary independence of Guatemala.
India and Guatemala have enjoyed cordial and friendly relations ever since the diplomatic relations were established in the late 1970s. How do you see this partnership in present day and age?
Indo-Guatemalan relations have continued to grow steadily ever since the establishment of our bilateral relations in 1972. We have seen strong commercial ties with a robust commercial engagement in the last years. In fact, this partnership has moved beyond commercial to cultural exchanges as well along with other emerging areas of co-operation such pharmaceuticals, renewable energy, development cooperation and others. In a true sense Indo-Guatemalan relationship is both bilateral and multilateral in this global sphere as both nations have lent support to each other in numerous international forums.
The Government of Guatemala's robust investment initiatives have catapulted the country as a lucrative foreign investment destination. What are some of the priority sectors for the Indian investors to look forward to? 
In the last couple of years bilateral investment has achieved new heights with both the nations investing in some critical sectors. Indian investors are offered an attractive investment opportunity in Guatemala owing to its special geographical location and a host of free trade agreements with the USA, Canada and Mexico. It can serve as a gateway to the larger markets for Indian investors.
In January 2023, Minister of State for External Affairs Meenakshi Lekhi visited Guatemala on her maiden trip to the country. What were the key highlights of her visit?
The visit by the Indian Minister to mark the 50th anniversary of bilateral relationship speaks of the importance of this bilateral partnership. The Hon Minister Meenakshi Lekhi held a wide range of consultations as she met the Guatemalan Minister for Foreign Affairs, Mr. Mario Adolfo Búcaro Flores. She engaged not only in political dialogues but visited the Ministry of Culture to seek possibilities of further partnership. She was taken around some culturally important sites along with the Chambers of Commerce and Industries to discuss the scope for deepening bilateral co-operation. She visited the majestic Mayan city of Tikal and the colonial city of Antigua Guatemala, which are World Heritage sites declared by UNESCO. It was a great honour to receive her in Guatemala.
During the recently concluded India-Latin American Countries Conclave in New Delhi, a delegation from Guatemala marked its presence. Kindly brief us about this bilateral exchange.
Yes, indeed. The India-Latin American Countries Conclave turned out to be a key opportunity in bringing multiple stakeholders together. Our Economic Vice Minister of Economy and Small Medium Enterprises, Mr. Fernando Escalante Arevalo met numerous leaders from the Indian industries as well as the Confederation of Indian Industries and explored the possibilities for new investment avenues. The Hon Minister also participated in a round table conference along with the delegates from Honduras, Dominican Republic and other Latin American states to deliberate upon new initiatives between India and the Central American Integration system (SICA). Moreover, keeping true with Guatemala's policy of promoting small industries the Hon Minister also met the Indian Minister in-charge for Micro Small and Medium Enterprises to discuss future co-operation in the field. Some members of the Guatemalan private sector also attended the conclave.
India has a long-standing development partnership with Guatemala that has made positive contributions towards capacity building and socio-economic development of Guatemala. What are some of the ongoing projects being funded by India in Guatemala?
India has been a key developmental partner for Guatemala in the field of culture and exchange of knowledge. India has consistently funded multiple projects in Guatemalan Universities both directly and with the assistance of the Ministry of External Affairs. Guatemala is grateful for the cooperation given from the Indian Technical & Economic Cooperation (ITEC) programme. As Guatemalans, we also look towards India as an ideal destination for taking up research and advanced studies in the fields of agriculture, energy etc. Thus, it is a partnership that has much scope for future co-operation.
Guatemala has emerged as an offbeat tourist retreat owing to its pristine beauty and government efforts. What are some of the key steps undertaken by the Guatemalan government to promote tourism in the country?
In order to promote Guatemala as an ideal tourism destination for Indians we have interacted with the numerous Indian industry groups as well as the Indian Council for Cultural Relations (ICCR). We really look forward to showcasing Guatemala's culture to Indians at large as both nations share a history of a millenary rich cultural heritage. This cultural legacy is also the core stone of Guatemala as a tourism hub for Indians. Guatemala is also easily accessible for Indians via United States or Panama. Tourism definitely is an attractive option for Indians due to the pleasant weather conditions in Guatemala all year long, and even during the dry and rainy seasons. Hence, we look forward to having more Indians visiting Guatemala.
In recent years, a number of cultural exchanges have taken place between the two countries such as dance troupes etc. How do you see such exchanges in strengthening the bilateral relationship between the two countries?
India and Guatemala both hold a rich and diverse legacy of cultural traditions. We have co-operated to showcase and promote the culture in both the nations. We had a dance troupe from Odisha visiting Guatemala and similarly some traditional dancers showcasing their heritage here in India. We have also engaged in other artistic exchanges last February where a delegation comprising renowned artists and archaeologists graced an event hosted by the Indian Council for Research. We also look forward to present the rich syncretism of the Guatemalan culture, which is unique as the heart of the Mayan world.
Would you like to give any message to our Envoy Excellency readers?
We wholeheartedly welcome your readers and fellow citizens to visit our nation. It shall be a pleasure to host you, especially in our 202nd year of Independence and showcase our vibrant traditions and culture. We believe this mutual respect and shared histories shall serve as an important foundation stone for the future of our bilateral ties with our Indian friends and to provide further momentum to our bilateral partnership. Thanks to Envoy for covering the diplomatic activities in India!