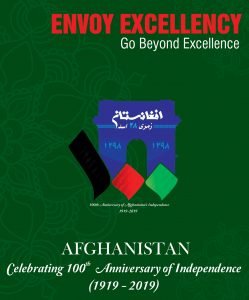 Dear readers,
I am glad that the Envoy Excellency in coordination with our Embassy has brought out this coffee table on
Afghanistan on the occasion of our country's 100 years of Independence anniversary. 2019 is a special
year for Afghan people as it marks a century of our liberation from British, Afghanistan has faced many
ups and downs over the 100 years and people have gone through turbulent times at some points even
as we celebrate this special year, our security forces are fighting with dark forces and international
terrorism and sacrifice their priceless lives for the values our people cherish and for upholding our
nascent democracy.
This year also marks 72 years of diplomatic relations between Afghanistan and India, however I must
say that our two people relationship traces back to Indus Valley Civilization. There have always existed
strong bonds between our people. As His Excellency our President, Mohammad Ashraf Ghani once said
that "India and Afghanistan are bound by a million ties through millennium."
The beginning of the 21st century was a milestone for our country and our peoples have come a long
way since then in terms of progress and development in various areas and I am happy to say that India
has been a significant contributor to the development and achievements we have gained. Our young and
dynamic young generation is committed to build on the progress we have made in the past 19 years and
striving to make a better future for our country.
I hope you enjoy reading this coffee table.