New Delhi: President of India, H.E. Smt. Droupadi Murmu paid a State Visit to the Republic of Serbia from 07-09 June, 2023 at the invitation of H.E. Mr. Aleksandar Vučić, President of Serbia. This was her first visit to Europe, and the first-ever visit by a Head of State of either country.
President was accompanied by Sadhvi Niranjan Jyoti, Minister of State for Rural Development, Consumer Affairs, Food & Public Distribution, and Smt. Rama Devi, Member of Parliament, Lok Sabha, and an official delegation.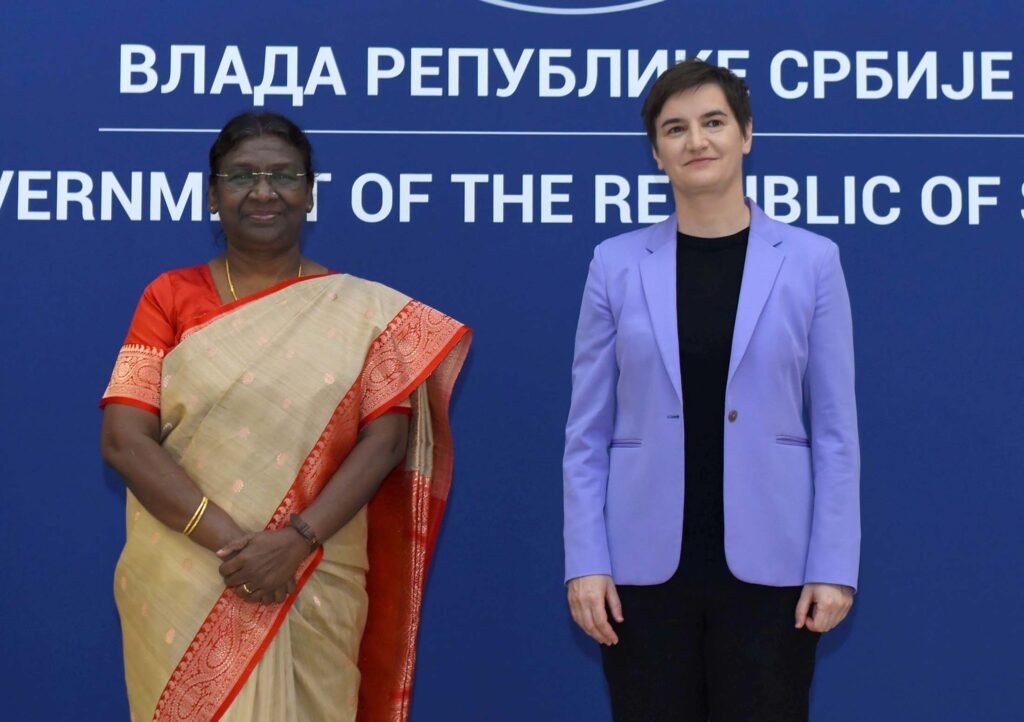 Upon arrival, President paid floral tributes at the bust of Mahatma Gandhi in Belgrade. She interacted with the Indian community and friends of India. In her address, she highlighted the emergence of India as an economic power and the myriad of opportunities that it offers and called upon them to contribute positively towards strengthening India-Serbia relationship.
On 8 June 2023, the President's engagement started with a ceremonial Guard of Honour at Serbia Palace, followed by restricted-level talks, bilateral delegation-level talks, joint-address to the media, address to a joint business event, call-on by Dr. Vladimir Orlić, Speaker of the National Assembly of Serbia and laying of a wreath at the 'Monument to the Unknown Hero', atop Mount Avala. President Vučić also hosted dinner banquet in honour of President at his palace residence.
President Vučić expressed his condolences for the loss of lives in the tragic train accident in Odisha. He reiterated Serbia's stand on the territorial integrity and sovereignty of nations.
During bilateral discussions, President Vučić was joined by eight Ministers (Defence; Agriculture; Culture; Health; Mining & Energy; Construction, Transport & Infrastructure; Trade; and Tourism & Youth) from his government. Discussions revolved around potential mutual engagements in sectors, including defence and military-tech cooperation, pharmaceuticals, agriculture, industrial cooperation, information technology, AI, and cultural cooperation, including film production and cinematography.
H.E. Ms. Ana Brnabić, Prime Minister of Serbia, hosted a luncheon in honour of President, during which discussions revolved around potential cooperation in trade, economic, tourism, and culture. She showed keen interest in digitalization and cyber security.
During the call-on by the Speaker of the National Assembly, President highlighted the need for exchanges of parliamentarians.
9. ​President's State Visit has reaffirmed the strong relations between India and Serbia. The visit is expected to provide fresh momentum to our ties, especially economic.