Vietnam is chock-full of forested peaks, thundering waterfalls, and breezy coastline, so it's no wonder the country is luring more and more outdoor enthusiasts. While there are plenty of pulse-pounding activities, Vietnam also offers more leisurely ways to enjoy its vast natural attractions: from mangrove forests to epic cave systems, misty mountains to sun-drenched rice paddies, the list is truly endless.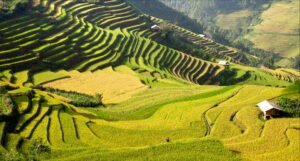 Caves
One of Vietnam's most exciting destinations, the Phong Nha-Ke Bang National Park is brimming with activities for adventure travellers, including camping, ziplining, and forest trekking. In just a few short years, Phong Nha has gone from a sleepy outpost to a full-scale tourist centre, boasts Asia's oldest limestone formations and jungle-covered scenery. The discovery of Han Son Doong, the largest cave in the world, catapulted the excitement to new heights.
Islands
A mythical seascape if there ever was one, it's no surprise Ha Long Bay is home to as many legends as it is islands. This spectacular bay and Natural Heritage Site stretches across the Gulf of Tonkin, 165 km from Hanoi. Hidden among more than 1,600 limestone formations, are secret grottoes, sparkling beaches, and jaw-dropping caves. Aside from Halong Bay, the islands of Con Dao and Phu Quoc are two of Vietnam's most attractive beach destinations.
Highlands
Mysteries abound in the mountains of northern Vietnam. In deep river valleys and sky-scraping passes, minority tribes like the Hmong and Dzao guard their independence fiercely, sticking doggedly to traditions that have evolved over millennia. The town of Sapa stands at the head of a deep valley of magnificent rice terraces that are still worked today as they have been for centuries. Famous for its countryside charm, Dalat is popular with outdoor enthusiasts and golf aficionados alike.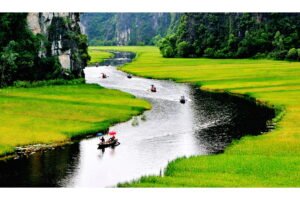 Rivers
In Central Vietnam, the cities of Hue and Hoi An simply cannot be separated from their legendary rivers. The Vietnamese in Hue have long relied on the Huong or Perfume River for cooking, bathing, and washing. The water flows between wide grassy banks, changing colour from golden brown to deep blue, depending on the rain. In Hoi An, a collection of picturesque shop houses and ancestral homes remain clustered along the Thu Bon River, which once welcomed traders from across the seas.
Rice Paddies
Vietnam's verdant rice paddies are perfect for exploring on two wheels. Wet rice cultivation plays a significant role in the countryside, especially in parts of the Mekong Delta, the areas surrounding Hoi An, and the lush valley of Mai Chau. Sunrise is a prime time to grab your hat and hop on a bike. With any luck, you'll find yourself in a sea of green, with water buffalo flicking their tails along the path and flocks of herons scattering on the horizon.