Prime Minister of India, H.E. Mr. Narendra Modi paid a official visit to Johannesburg, South Africa from 22-24 August 2023 to attend the 15th BRICS Summit at the invitation of H.E. Mr. Matamela Cyril Ramaphosa, President of the Republic of South Africa.
This was the first in-person BRICS Summit since 2019. The Summit was provided an opportunity to review progress of the initiatives launched by the grouping, and identify future areas of activity.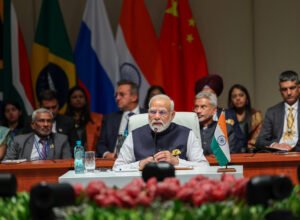 Prime Minister Modi also participated in a special event "BRICS – Africa Outreach and BRICS Plus Dialogue" being organized after the BRICS Summit, which will include other countries invited by South Africa.
During his visit, Prime Minister Modi held a bilateral meeting with some of the leaders present in Johannesburg.