Germany 
German Whites
White wines are Germany's strength. there was a time when most  British and European cellar or dining table was without a good bottle of 'hock' – as German white wine was known. Germans take their wine very seriously; this is because 65% of vineyards produce white wine. Cooler climate of Germany produces white wines with lean, laser-focused fruit flavors and heightened acidity.
What make German wines so tempting is their prolong ageing.  People who appreciate red wines will definitely become obsessed with white of German,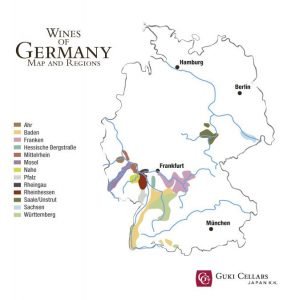 Greatness of grapes
Riesling grows throughout Germany and each of the 13 Anbaugebiete (Mosel, Pfalz, Rheingau) Over past decade It has been very exciting time for Riesling in Germany. In the past, there was a predominance of sweet Riesling wines in the market, but now with changing tastes, we've seen a great deal of Germany's finest wineries producing more dry Riesling. The noble Riesling grape is Germany's masterpiece, boasting a racy elegance. Not just German Riesling is great, it is appreciated so much that collection white wine of Trockenbeereauslese (TBA) which is sweetest of all is considered as prized
Müller-Thurgau is Germany's everyday wine making grape. This grape used to make a delightful tasted wine. The specialty of grape that it is easier to grow in the colder areas.  There are approx 200 estates wineries.  Most Müller-Thurgau are considerably more full-bodied than Riesling and has floral aromas. This taste sweet even when it's trocken (dry). The best examples balance unctuous peach-like sweetness with crunchy green phenolic bitterness (that is sometimes reminiscent of rhubarb).
Pinot Gris and Pinot Blanc are used to make delightful, floral and stone-fruit wine in Germany. This is because both grapes absolutely pure with no hybrids. Both the grapes found in the warmer region of Germany like Pfalz, Baden.
Silvaner is another most famous grape in Germany but less known to the world, but it is again one of the greatest. The grape is very difficult to grow and produce, but you will be surprised by the overall quality of the wines. Silvaner has both peachy and passion fruit flavors along with an herbaceous thyme-like note, not unlike Grüner Veltliner. On the palate, Silvaner wines often has an oily texture that's complimented with crisp acidity.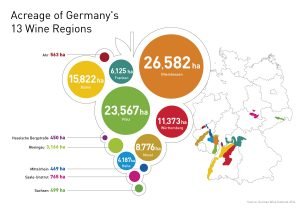 German Reds
We think it will not be good to disregard German reds. You will find many good ones. You will not be disappointed by Dornfelder, Trollinger, and most Spätburgunder (Pinot Noir). The latter is the one most picked up by quality producers, so there are a few who know not to over-oak the stuff and instead make some Burgundian-style Pinot Noirs, most notably Holger Koch and Shelter Winery (Baden), J.B. Becker (Rheingau), Markus Molitor and Immich-Batterieberg (Mosel).
The price-quality ratio of these isn't as good as it is with German whites, but it's better than for Burgundy. That's why it's worth checking them out.
by Professor Manoj Sharma